Initiere in software testing
organizat în parteneriat cu Academia Testării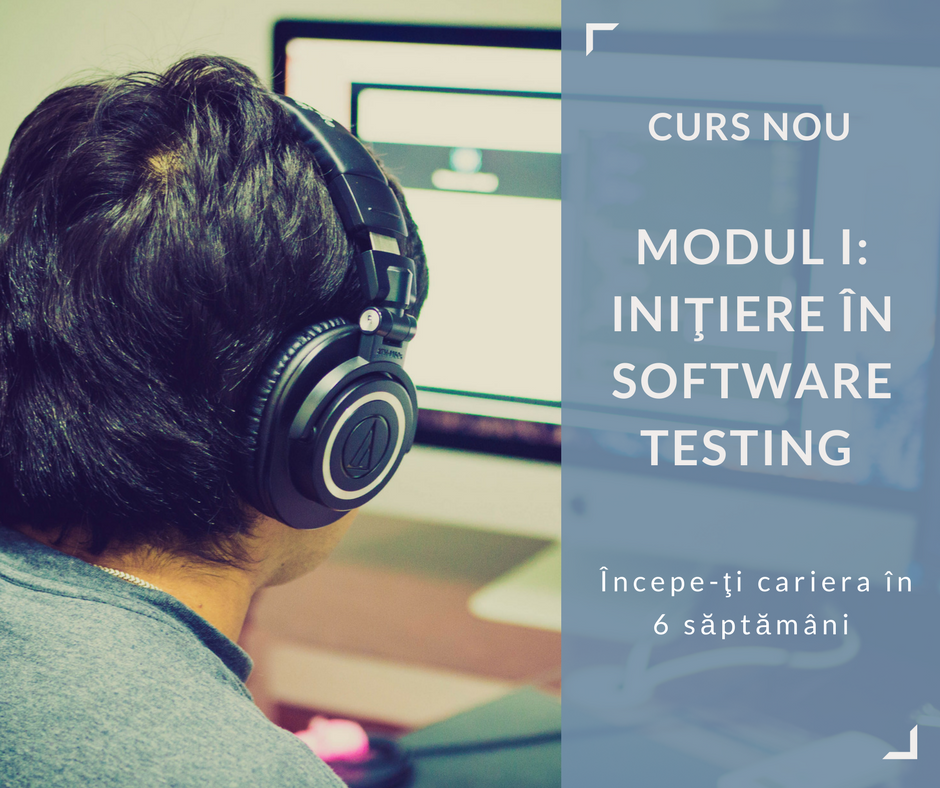 Prezentarea cursului
Cursul de Initiere in software testing,  sustinut de trainerii din cadrul Academiei Testarii, ofera participantilor o prima vedere asupra profesiei de testare software, a importantei ei in cadrul procesului de software development, cat si a metodelor folosite in validarea produselor de testat. El este adresat persoanelor ce nu au experienta in acest domeniu dar isi doresc sa inceapa o cariera in aceasta profesie. Obiectivul cursului este să ofere participantilor cunostintele introductive din zona testarii manuale functionale. Cunostintele dobandite pot ajuta absolventii in a indeplinini cu brio rolul de Junior QA & Testing Analyst.
Cui se adresează?
Persoanelor peste 18 ani
Persoanelor cu cunostinte de engleza si operare PC minim de nivel mediu.
Competențe dobândite
Vei intelege nevoia de testare software
Vei afla care sunt cele mai raspandite modele de dezvoltare software si cum se mapeaza testarea pe fiecare model
Vei afla care sunt livrabilele testarii software si ce ar trebui sa contina
Vei afla cele mai utilizate clasificari ale testarii
Tehnici de design a test case-urilor
Defect workflow
Best practices in zona test case-urilor si a defectelor
Vei invata sa lucrezi cu JIRA si Zephyr – 2 tool-uri foarte utilizate in dezvoltarea software
Structura cursului + structura laboratoarelor
Curs 1 - Introducere in software testing
History of testing
Impact of defects
Development methodologies
Software tester role
Tools
Curs 2 – Agile & SCRUM
Agile Manifesto
Product backlog
Backlog grooming
Sprint planning
Sprint backlog
Definition of Done
Sprint lifecycle
Curs 3 – Functional & Non-functional testing
 Waterfall development
 Test process
 Functional testing overview
 Non-functional testing overview
Curs 4 – Test cases & Zephyr
Test case management
Test case workflow
Execution & reporting
Zephyr overview
Curs 5 – Test case design techniques
Requirement analysis
Static vs. dynamic techniques
White box techniques
Experience based techniques
Black box techniques
Test plan
Curs 6 – Defects & JIRA
Defect definition
Defect management process
Categorization
Severity vs. Priority
Defect lifecycle
JIRA overview
Curs 7 – 10 – Parte practica aplicata
Practical approach to testing software requirements
Hands-on JIRA & Zephyr
Curs 11 – 12 Examen final
Simulation of testing software requirements using JIRA & Zephyr on dedicated testing application


Toate cursurile organizate in parteneriat cu Academia Testarii se vor desfasura la sediul AT din Str. Dr. Felix nr. 55, București  - zona Piața Victoriei.